Virtual Summer Associate Programs:
Everything has changed. And now is the time to stand out with the only workshops specifically designed for virtual summer programs. Contact me to discuss solutions to help you save summer:
Engaging, custom content
Highlight your firm's unique culture
Created for the virtual summer
Virtual scavenger hunt included with live programming
---
Live Webcast:
Bring Your Virtual Best: Building Resilience + Managing Stress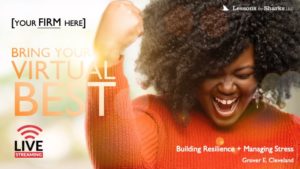 Summer associates are anxious. That can impact learning and impair judgment. Bring Your Virtual Best arms summer associates with science-based skills to build resilience and reduce stress. Specifically designed for virtual summer programs, live interaction and follow up materials reinforce learning. Bring Your Virtual Best will set your firm apart and win rave reviews from summer associates. (90 minutes or two 45-minute segments)
---
Live Webcast: Virtual Summer Success: Working + Networking Virtually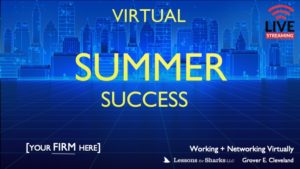 Everything is different. Virtual Summer Success tackles the challenges of working and networking in a virtual world. The program gives summer associates step-by-step plans to build relationships and ace their assignments. Designed specifically for virtual summer programs, summer associates receive assignment checklists, networking exercises, and more. The engaging program empowers summer associates with the skills they need to thrive in this unprecedented time. (90 minutes or two 45-minute segments)
---
Live Webcast:

DiSC Virtual Happy Hour: DiSC + Self-Awareness + Fun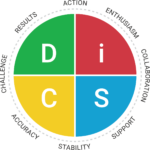 Virtual Paint Night is great. But this one-of-a-kind DiSC Virtual Happy Hour builds self-awareness and helps summer associates learn about each other. Each summer associate receives an individual DiSC assessment to keep. And summer associates can pair up to create unlimited comparison reports. During a lively and informative program, summer associates learn about the DiSC styles and working more effectively with others. With "ah-ha" moments all around, the conversations can continue about anything under the sun. Just add ice.
---
Virtual Scavenger Hunts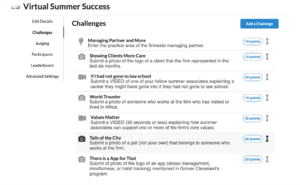 Virtual scavenger hunts provide unique opportunities to engage summer associates in learning about each other and the firm. Working individually or on teams, summer associates solve challenges with words, photos or videos. They earn points by submitting video resumes, interviews with lawyers, or firm trivia – the sky is the limit. And each challenge gives summer associates more insights about the firm. Summer associates play from their phones. Scoring is automatic, and the results display on a leaderboard that can be shared by video.
Custom scavenger hunts are included with live programming. And here, the virtual scavenger hunts do double duty. Information from programming is included in the scavenger hunt that occurs later in the summer. Summer associates know that the training will help them solve challenges in the later scavenger hunt. That promotes engagement in the training, and then the scavenger hunt serves as a quiz to reinforce learning. Win. Win.
---
On Demand
:

Virtual Summer Success and Power Summer 2020
For on-demand convenience, a condensed video version of Virtual Summer Success: Working + Networking Virtually is also available. (50-minutes) It can be purchased as a stand-alone training or as part of the Power Summer 2020 summer associate package.
---
Power Summer 2020
The Power Summer 2020 program provides an array of on-demand programming for law students and summer associates with content from me, Ross Guberman, Jeena Cho, Christine Clapp, and Joe Regalia. Topics include working and networking, writing, communications, mindfulness, and technology.
---
Associate Programs:
Tailored Associate Orientation Keynotes:
Make orientation memorable with a special welcome for new lawyers and learning that doesn't seem like learning. Engaging, interactive workshops arm new lawyers with actionable advice to help them start strong. These customized programs are carefully tailored to complement your other offerings. But the overriding goal stays the same: helping lawyers provide more value sooner.
Taming Time:
Creative and engaging strategies to help associates capture time and complete projects efficiently, associates learn to tame time. Deadline met. Time recorded. Everyone wins.
Networking Like a Pro:
Associates know they need to expand their professional networks, but on top of everything else, business development can seem daunting and uncomfortable. This program helps turn networking into a habit and aligns strategies with individual strengths.
---
Law School Programs:
With employers clamoring for "practice-ready" graduates, Law School Programs give students' professionalism and job search skills a boost. The engaging workshops are customized to highlight and complement career service offerings.