Live Virtual New Associate Programs:
Everything has changed. And no one gets a second chance to make a first impression.  Now is the time to stand out with workshops specifically designed to ensure that associates start strong in a virtual environment.  Contact me to discuss solutions to help overcome the challenges of virtual onboarding:
Engaging, interactive content
Carefully customized for each firm
Incorporating best practices for virtual learning
Designed to ensure that associates provide more value sooner
---
Live Webcast:
Bring Your Virtual Best: Building Resilience + Managing Stress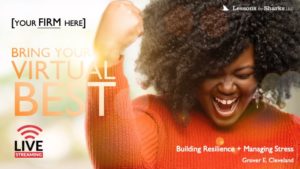 We are all in unchartered territory.  And new graduates are stressed. That can impact learning and impair judgment. Bring Your Virtual Best arms new associates with science-based skills to build resilience and reduce stress. Specifically designed for virtual onboarding, live interaction and follow up materials reinforce learning. Bring Your Virtual Best will set your firm apart and give new associates a strong foundation for success.  (90 minutes or two 45-minute segments.)
---
Live Webcast: Start Strong:  Virtual Productivity and Value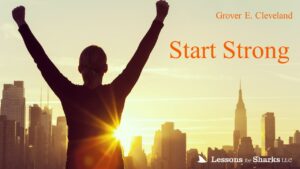 Everything is different. Start Strong tackles the challenges of meeting expectations in a virtual environment,  building trust, and staying productive.  The engaging program empowers new associates with the skills they need to hit the ground running in this unprecedented time. (90 minutes or two 45-minute segments.)
---
Live Webcast:

DiSC Virtual Happy Hour: DiSC + Self-Awareness + Fun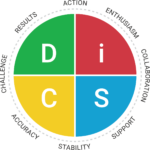 This one-of-a-kind DiSC Virtual Happy Hour builds self-awareness and helps new associates learn about each other. The program highlights differences in work styles and personality types and provides strategies to help associates increase their EQ. Each new associate receives an individual DiSC assessment to keep. And associates can pair up to create unlimited comparison reports. During a lively and informative program, associates learn about the DiSC styles and working more effectively with others. With "ah-ha" moments all around, the conversations can continue about anything under the sun. Just add ice.